Think beautiful – make sure that every corner of digital product looks amazing thanks to our observant designers.
Ready to deploy outsourcing team?
How We Deliver UI/UX Services
Business Analysis and Consulting
Business needs, Competition, Goals and everything that is needed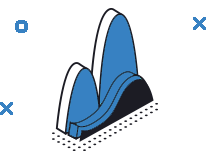 Specification Drafting
Project goals, tactics, budget, deadlines and technical aspects
Concept Wireframe
Create concept wireframe or UX to provide a better visual understanding
Build Graphic Design
Create UI or graphic visualization of UX
Create Prototype
Create invision prototype of the digital product
Why Trust Us As Your Designing Partner
Top-Notch & Certified
Team
Maintain Confidentiality
of Your Idea
Adherence of Quality Management & Control System
Google Certified & experienced Digital Marketers
Highly Motivated & Certified
Management Team
Work on the Principles of Continuous improvement
Flexible Development and
Payment Model
Round the Clock
Availability
Digital Innovation
Guaranteed
Best Value Digital Product with Cost Saving
On-Time Delivery
Commitment
Top IT Staff Augmentation
Services
Choose The One That Looks Better To You

Time & Material
The time and material model is perfect for the projects that do not have a well-defined scope, requirements and implementation plans or which are assumed to undergo amendments during any phase of the project development process. It is a hourly based model where the cost of the project depends on the time spent and resources utilized.
This type of model offers enhanced flexibility to the customers as they can amend the project specifications in the ongoing project, as per the latest market trends.
The hourly price model is a perfect fit for the complicated and big projects that have the possibility of frequent changes ongoing. Here are the main advantage of this project model:
Billing is done bi-weekly and supporting timesheets are sent to the customer.
This model offers flexible ways to improve cost optimization and refresh team.
Complexity of the project is depend on the integration and dependency on the external resources.
Scope under this model is defined tentatively and it evolves as the project move towards progress.
Fixed Price
Retainer Agreement
Being appreciated by the customers we work with means the world to us. It also translates beautifully into our official ratings.
Have an Idea in Mind?
Let's Talk!